A5 Chuck Loin steak ±200gram/pack
A5 Chuck Loin Steak ±200gram/pack
Katarosu かたロース [鞍下]
TENDET∶ ★★★★ FAT∶ ★★★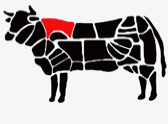 Katarosu refers to the meat from the wagyu's head to
the middle which is also called the "scapula".
This frosted red meat with plenty of fat will make
you enjoy the rich taste of the wagyu.
Why Buy From Us?
✅ Our Wagyu meat is the best for marbling, fat and meat colour, structure and taste!
✅ Certified Halal Japanese A5 Wagyu Meat
✅ 100% Full Blood A5 Japanese Wagyu Meat
✅ Ready Supply
✅ Come in Clean and Bacteria Free Vacuum Frozen Pack
** Picture for illustration purpose only.
Check the wagyu individual identification number at the following websites: